Semi-Tensile Marquees
The modern pole marquee
Covering the most area at the least cost
The Semi-Tensile range of sizes are available 30' 40' and 80'ft wide (9.1m 12.2m and 24.4m wide)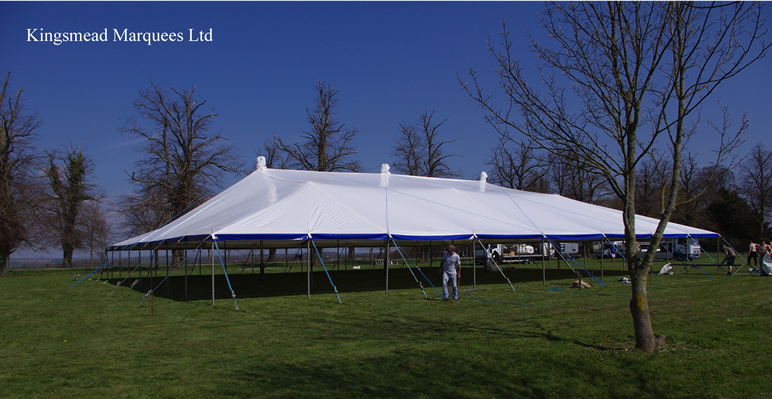 Traditional marquees have been available for many years and until the introduction of frame marquees were the only viable option for events. However, the fast erection times and lower cost of hire ensure their continued use.
During an update of our large show marquees we decided to reinvent the pole marquee by introducing modern materials and new ideas, the result is our superb range of Semi-tensile marquees, ranging from 9.1m (30') wide up to 24.4m (80' wide) in any length.
featuring:-
All weather stability - low profile roof kept drum tight by a special tensioning system (suitable for long term hire)
Side pole spacing up to 3.8m (12'6") (better than many frame marquees)
Easy to plan layouts due to small diameter internal poles mostly 7.6m (25') apart
Can be fitted with all accessories including pleated linings, blackout & starlight linings, lighting systems, wooden floors, glass doors, windows & awnings.
Roof shape more suitable for many setting's.
By far the most economical way to cover your event.
---
| | |
| --- | --- |
| The flared ends and curves of the roof are pleasing to the eye, especially in a country setting and have long been a favoured option for wedding marquees. | |
| | |
We stock a full range of linings for these marquees including flared lining ends that follow the roof shape.
---
Larger events can be accommodated with the wider 80' (24.4m) marquees, these are available up to 1000' in length (300m) with wall heights up to 10' (3m)

'Click' to enlarge most images on this page
Every year a number of high profile functions are held in the larger semi - tensile marquees, the enormous capacity combined with the many interior options make them ideal for events at any time of the year.

When large numbers need to be accommodated, event organisers know that this type of marquee can be erected quickly and with cost savings when compared to an equivalent sized frame marquee.
---
School speech days, shows, festivals and exhibitions are all popular uses for these marquees, with some major events having continuously requested them from us for over 20 years.
---
---

Semi-tensile marquees

the sensible alternative to frame marquees
---